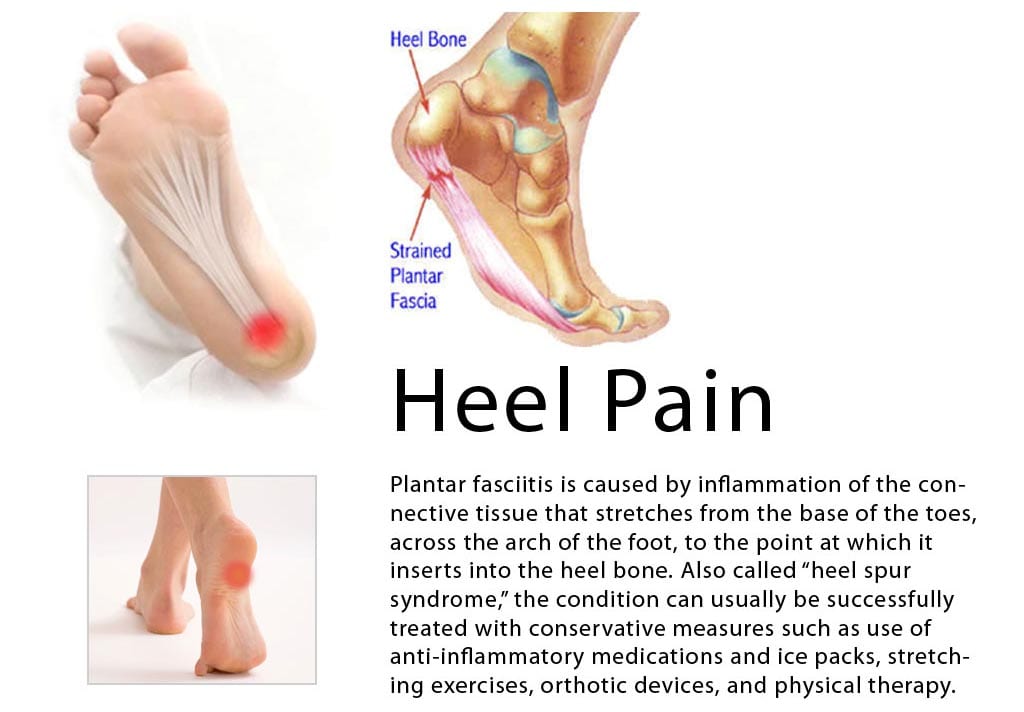 Overview
The plantar fascia is a thick band of connective tissue that runs along the underneath of the foot from the heel bone to the toes. At the heel it can also have fascial connections to the achilles tendon. Its job is to maintain the arch of the foot, it acts as a bowstring pulled between the heel and the toes. "Itis" as a suffix indicates inflammation, but with the plantar fascia there is still some controversy over what exactly happens to the tissue when it becomes painful.
Causes
Excessive stretching of the plantar fascia can result in microtrauma of this structure either along its course or where it inserts onto the medial calcaneal tuberosity. This microtrauma, if repetitive, can result in chronic degeneration of the plantar fascia fibers. The loading of the degenerative and healing tissue at the plantar fascia may cause significant plantar pain, particularly with the first few steps after sleep or other periods of inactivity. The term fasciitis may, in fact, be something of a misnomer, because the disease is actually a degenerative process that occurs with or without inflammatory changes, which may include fibroblastic proliferation. This has been proven from biopsies of fascia from people undergoing surgery for plantar fascia release.
Symptoms
Most people with plantar fasciitis have pain when they take their first steps after they get out of bed or sit for a long time. You may have less stiffness and pain after you take a few steps. But your foot may hurt more as the day goes on. It may hurt the most when you climb stairs or after you stand for a long time. If you have foot pain at night, you may have a different problem, such as arthritis , or a nerve problem such as tarsal tunnel syndrome.
Diagnosis
Most cases of plantar fasciitis are diagnosed by a health care provider who listens carefully to your description of symptoms. During an examination of your feet, your health care provider will have to press on the bottom of your feet, the area most likely to be painful in plantar fasciitis. Because the pain of plantar fasciitis has unique characteristics, pain upon rising, improvement after walking for several minutes, pain produced by pressure applied in a specific location on your foot but not with pressure in other areas, your health care provider will probably feel comfortable making the diagnosis based on your symptoms and a physical examination. Your health care provider may suggest that you have an X-ray of your foot to verify that there is no stress fracture causing your pain.
Non Surgical Treatment
Cortisone is a powerful anti-inflammatory and when injected directly into the heel it will work almost immediately. Bear in mind however, that the treatment does not address the root cause of the inflammation, and needs to be repeated every few months. Also note, these injections are quite painful, and most doctors today will consider other, less invasive treatment options first. ESWT (Extra Corporeal Shockwave Treatment). A specialist targets therapeutic shockwaves to the affected heel area. This will stimulate a healing response in the affected tissue and ligaments, resulting in reduced inflammation and pain. This treatment and may take from 3 to 4 months to be fully effective. Extracorpreal Shock Wave Therapy is the latest technology to treat chronic plantar fasciitis. It is a non-invasive treatment and highly recommended for people who have tried other treatment like cortisone-injections, accupuncture etc with little or no success. Electroacupuncture and standard acupuncture are used in the treatment of plantar fasciitis and other foot problems such as neuromas and nerve impingement, numbness in the toes etc. In some cases there is nerve entrapment within the foot combined with referred pain from other areas of the body. Some research suggests that acunpuncture can be effective in the treatment of heel pain. A trigger point is an irritable knot in the muscle tissue. When pressed trigger points are very tender and can cause pain in that specific spot or elsewhere in the body (referred pain). The response to pushing into the knot is a muscle twitch. The foot contains 126 muscles, tendons and ligaments, so there are plenty of 'hiding places' for trigger points. Trigger points in the calf muscles often refer pain directly to the bottom of the foot. Trigger point therapy of the lower leg and foot can therefore be successful in the treatment of plantar fasciitis.
Surgical Treatment
Surgery is rarely needed in the treatment of plantar fasciitis. The vast majority of patients diagnosed with plantar fasciitis will recover given ample time. With some basic treatment steps, well over 90% of patients will achieve full recovery from symptoms of plantar fasciitis within one year of the onset of treatment. Simple treatments include anti-inflammatory medication, shoe inserts, and stretching exercises. In patients where a good effort with these treatments fails to provide adequate relief, some more aggressive treatments may be attempted. These include cortisone injections or extracorporeal shock wave treatments.
Stretching Exercises
Stretching exercises for the Achilles tendon and plantar fascia are recommend to relieve pain and aid in the healing process. Sometimes application of athletic tape is recommended. In moderate or severe cases of plantar fasciitis, your doctor may recommend you wearing a night splint, which will stretch the arch of your foot and calf while you sleep. This helps to lengthen the Achilles tendon and plantar fascia for symptom relief. Depending on the severity of your plantar fasciitis, your physician may prescribe a store-bought orthotic (arch support) or custom-fitted orthotic to help distribute your foot pressure more evenly.